Universal Auxiliary Tank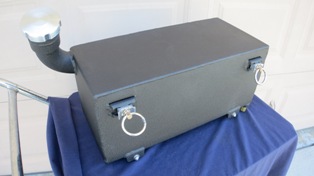 This is a basic tank which uses RAM balls and arms as the mounting method. The design was co-opted from a client who employed this on his Vstrom. Due to the universal nature of this mounting system, we've decided to list it as it's own product. We've made of these Ram mount systems and clients have been very pleased.
The Ram Ball mounting system employed by the original customer is a great idea. While the ram mounting hardware is a bit expensive it's less than a custom mount. Additionally, it makes the tank universal. Having a generic mounting system allows you to move the tank from bike to bike to bike with little additional expense.
We are now providing the Ram Ball on the tank side of the mount using the new RAM Tough-Ball™. This latest addition to the RAM product line has steel inside and out. The seamless transition between RAM versatility and steel durability allows us to be assured the tank side of the mount will stand up to rigorous use.
Take a look at what we've done and contact us if you have a design in mind.
Mounting Considerations
Mounting the Ram arms to the motorcycle is the responsibility of the purchaser. Following are STRONG recommendations.
The Ram components need to be fabricated with metal not plastic. Ram part numbers carry a different prefix for metal or plastic components. Aluminum part numbers have the prefix code RAM. Plastic part numbers have the prefix code RAP.
The Ram balls need to be fastened to the bike frame in such a matter that they are secure. We highly encourage you to use Ram Tough Balls bolted to the bike frame. Use of standard ram balls and/or clamped on mounts is at the purchasers risk.
The Ram arms should be as short as possible.
The Ram arms must NOT be parallel to prevent rotation. They have to be positioned at opposing angles / \ or \ /. If this can't be achieved then the tank needs to be anchored in some fashion to prevent longitudinal movement under hard acceleration or deceleration.
We provide the tank side Ram Balls and recommend you use similar.
Tank

Up to 5 gallon rectangular tank with single baffle, side mounted filler neck, filler cap, brass filler cap lanyard, 1/8" FNPT vent bung 1/4" FNPT drain bung
Constructed of .100" thick 5052 marine grade aluminum alloy
Pressure tested @4psi for 12hr minimum
Powder coated with your choice of color

Mounting

two aluminum bars welded to tank at specified locations (side or bottom)
Bars drilled and tapped in multiple locations for mounting 1" RAM Tough-Ball™ (4 included)

Plumbing 

Shut off valve with hose barb
vent fitting hose barb
6' fuel hose and clamps 
3" vent hose and clamps
Vent line filter
The basic tank unmounted:
Mounted on a Vstrom:
Mounted on a Suzuki: