BMW Pillon Mount System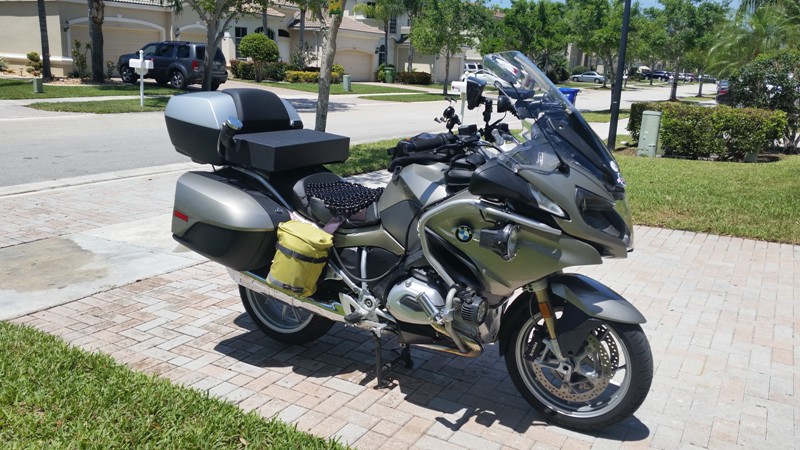 The BMW Pillion Mount (BMW-PM) System is designed for single rider applications. It allows you to keep your existing top box while achieving an 11.5 gallon total capacity
The core of the design is the pillion mount hardware. It can be deployed on the following BMW models: K1600GT (not GTL) and R1200RT. This unit may fit other models but has not been verified. Check with us to determine fitment.
Using this mounting as a basis, you can opt for just a luggage platform or, as is shown above, an auxiliary fuel tank.
The only variation on the models is the tank capacity as follows:
R1200RT 2005 to 2009 - stock tank capacity 7.13 gallons, auxiliary tank capacity 4.27 gallons
R1200RT 2010 and up - stock tank capacity 6.6 gallons, auxiliary tank capacity 4.84 gallons
K1600GT 2012 and up - stock tank capacity 7.0 gallons, auxiliary tank capacity 4.47 gallons
NOTE: Auxiliary tank capacities are nominal. We assure they are plus 0.0 (zero) gallons from the specification but may vary minus by 0.2 gallon.
System

Easy on and off mounting.
Powder coated to prevent scratching and marring

Mounting 

Fabricated from stainless steel
Uses stainless steel hardware
Uses stock BMW mounting points (no bike modification required)
Multiple mounting holes to facilitate positioning of options

Luggage Platform 

Fabricated from 1/4"" aluminum
Multiple tie down slots conveniently positioned

Tank

Fabricated from marine grade aluminum alloy (5052) for long life
TIG welded joints
Integral baffling
Side mounted filler neck to prevent spillage on luggage.
Non-vented cap affixed to the tank with a brass lanyard
Mounting

all stainless steel construction using heavy gauge material

Luggage Platform

1/4"" aluminum alloy
22" x 11" 
M6 stainless steel mounting screws

Tank

.100" thick 5052 marine grade aluminum alloy
1/4" FNPT drain bung to accept readily available fittings
1/8" FNPT bung for vent fitting in filler neck
Pressure tested at 4psi for a minimum of 12 hours
Capacity is to your specification with a tolerance of minus .2 gallons, plus 0 gallons
Pricing is based on complete turn key systems. Contact us for a quotation on modified systems. 
We offer ride-in installation or FedEx shipping.
NOTE: Prices are subject to change without notice.
For build consideration please send us an email.
Video shows details, assembly, and installation

---