BMW Pillion Mount Luggage Rack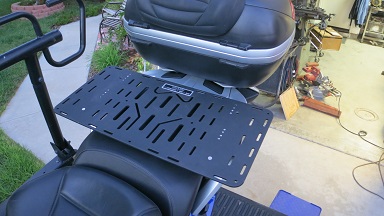 The BMW Pillion Mount (BMW-PMLR) Luggage Rack is designed for single rider applications. It allows you to keep your existing top box while adding a luggage platform over the pillion seat. 
This rack can be deployed on the following BMW models R1200RT up to current and K1600GT. This unit may fit other models but has not been verified. Check with us to determine fitment.
This unit WILL NOT fit a K1600GTL with a stock pillion seat due to width.
The core of the design is the pillion mount hardware. This is a robust all stainless steel bracket that attaches to the stock mounting holes of the motorcycle. 
Using this mounting as a basis, you can attach the luggage platform.
The luggage platform is constructed of 1/4" thick 6061 T6 aluminum alloy. It has many tie down points for attaching either bungee cords or straps. The back side of the platform has grooves to catch the bungee cord hooks so they don't slide out.
For the long distance rider an optional auxiliary fuel cell can be sandwiched between the luggage platform and the mount. (See BMW Pillon Mount System)
The platform is powder coated (color of your choice) to give a nice appearance.
System

Easy on and off mounting.
Powder coated to prevent scratching and marring

Mounting 

Fabricated from stainless steel
Uses stainless steel hardware
Uses stock BMW mounting points (no bike modification required)
Multiple mounting holes to facilitate positioning of options

Luggage Platform 

Fabricated from 1/4"" aluminum
Multiple tie down slots conveniently positioned
bungee cord hook nesting grooves on the inverse side
Mounting

all stainless steel construction using heavy gauge material

Luggage Platform

1/4"" aluminum alloy
22" x 11" 
M6 stainless steel mounting screws
We offer ride-in installation or FedEx shipping.
NOTE: Prices are subject to change without notice.
For pricing, ordering and/or estimated delivery schedule please send us an email.
Video shows details, assembly, and installation

---