K1200 LT Auxiliary Fuel for One Rider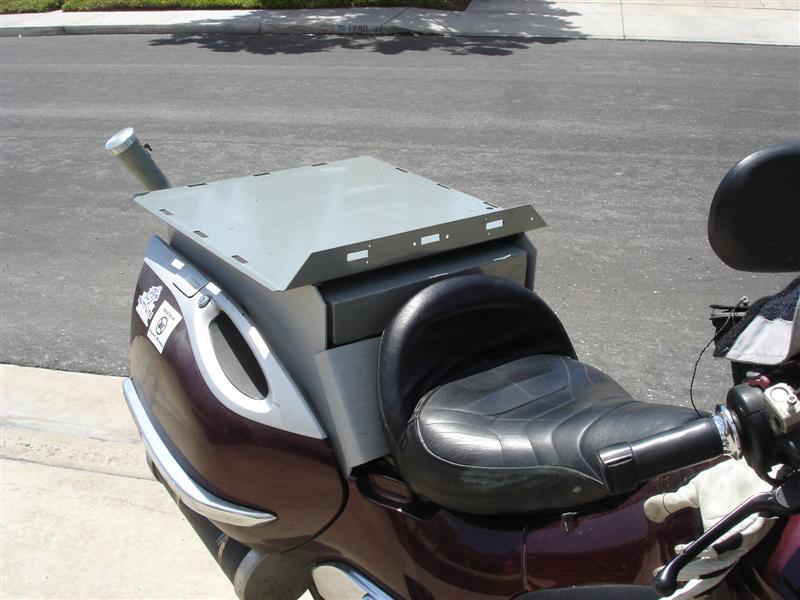 This design takes the place of the pillion seat and the top box to provide you with a large luggage platform.
At a nominal 5.2 gallon capacity this unit will put your total capacity at just under the IronButt Association maximum limit of 11.5 gallons. With the optional luggage deck you will have ample space to pack your gear for those long rides.
Fully integrated package
Gravity feed so no fuel pump is required
Mandrel bent filler neck allows for rapid filling with no splashback
Filler neck offset and above the cell to prevent spillage on your luggage
Non-vented cap is attached to cell to prevent loss
Longitudinally baffled in accordance with IronButt Association requirements
Owners manual with detailed operation, installation, and maintenance procedures
Separate pricing on components/options to allow for DIY work or alternative sourcing.
Luggage Deck

1/8" 5052 aluminum alloy
24" x 16" with 4" upturn at the front
1/2" x 1" x 22" extruded 6061 aluminum tube mounting rails with end caps
stainless steel flat head mounting screws (phillips or socket)

Tank

Nominal 5.2 gallon capacity.
Pressure tested for leakage to the following standard: 
minimum of 4 PSI over a period of not less than 12 hours with no drop in pressure 
Longitudinal baffle in accordance with Iron Butt Association® requirements. 
Will pass any current technical inspection requirements in the IBA, MERA, or other long distance riding associations. 
.100" thick 5052 aluminum alloy
1/4" FNPT drain bung to accept readily available fittings
1/8" FNPT bung for vent line in filler neck

Quick Connect Luggage System (optional)

Pelican/Storm iM2500 wheeled case (airline carry-on qualified)
Quick release mechanism for secure attachment to luggage deck
Rugged padlockable latching mechanism
Depending on the options you select the range is $230 for the basic cell to $1140 for a fully loaded turnkey system installed by us
Individual components are priced as follows:
Mounting System (requires rear seat pan to be provided) $150
Deck $200.00
Deck Assembly consisting of mounting hardware, holes for antenna mounting, and slots for tie downs
Tank $250.00
Tank Assembly consisting of tank, baffle, filler neck, filler cap, brass filler cap lanyard, 1/8" FNPT vent fitting, ¼" FNPT drain fitting
Plumbing Kit $60.00
Shut off valve and all fittings required.
Plumbing Hardware Options $45.00
Bulkhead fitting and quick disconnects
Single color powder coating $100.00
Luggage Options $300.00
Pelican/Storm iM2500 case and quick release mounting with security bolt
Here at MaPLE we want to do everything possible to keep your costs low. If you like to do your own wrenching or just want to have a hand in the process we make it easy for some DIY.
Our options allow you to only purchase the items you want. You might want to do all your own plumbing or wiring so you can remove those items. For example, you may be able to purchase the items in our plumbing kit for a lower price (we buy at retail and have a small markup to cover shipping, handling, and carrying costs). Our pricing reflects the convenience of having the items at hand when you need them.
Luggage Deck a 16" x 24" platform with a 4" riser. punched for tie down points and antenna mounting
Plumbing Kit consisting of shut off valve and all fittings required for installation
Quick Connect Fittings - brass valved (no leak)
Powder Coating 
Storm Case with quick release mechanism - This luggage option uses a PELICAN STORM HARDIGG IM2500 watertight case. (You can google to get details). We have been using one for over 3 years and love it. We chose this particular model due to the fact that it provides ample storage, meets airline carry-on regulations, and it readily accepts our quick disconnect mechanism. This case may be purchased from us or a vendor of your choice but we need to have the case at our location to make the quick connect modification. The price of the case is our cost plus shipping.{phocagallery view=category|categoryid=4|imageid=63|detail=6|displayname=0|displaydetail=0|displaybuttons=0|displaydescription=0|displaydownload=0 |displayimgrating=0}

---