Fork Ram Ball Mount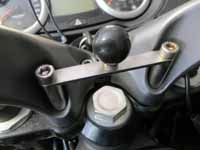 These Ram Ball Mounts attach to the fork using the handlebar bolts. 
They can be used on the Triumph Trophy SE or BMW R1200RT
If you've done any experiementation with Ram mounting on this bike you have discovered that mounting anything in the handlebar mirror stalk will block the fairing mounted mirrors. With the MaPLE fork mounted Ram ball you don't have this problem. This mounting places your GPS, accessory device, or even a cup holder, conveniently below the instrument panel and leaves room for a tank bag.
This mount attaches using the handlebar bolts. There are two models available: a narrow model that uses the front mounting bolts, and a wider model that uses the rear mounting bolts.
The front mount places the Ram Ball closer to the instrument panel and may make it more difficult to adjust your accessory device for a clear view of the instrument panel. Additionally, Since the bolts are very close together this mount is more difficult to manufacture and is slightly more expensive than the rear mount ram ball.
Specifications
This unit is fabricated 100% out of stainless steel. You get the cross bar, two metric stainless steel handlebar replacement bolts, a 1" (type A) Ram ball, and a locking nut for the Ram ball threads.
Pricing
Rear Mounted (the wide one) $45 each
Front Mounted (the narrow one) $50 each
Free Shipping to the USA
Contact us for shipping charges outside the USA
30 day money back warranty.

---